Even after the sun goes down, you can still get a delicious bite to eat at Doc's! Our kitchen is open late and serving up some of our pub classics like Nachos, Reuben Bites and much more. Raise a glass to great late night eats!
Late Night Fare
Irish Nachos $14
Thinly sliced potato crisps layered with melted cheddar and mozzarella cheese sprinkled with green onion. Served with salsa and sour cream.
Reuben Bites $11
Made-from-scratch corned beef blended in bite-sized balls with Swiss cheese, cream cheese and sauerkraut. Rolled in seasoned bread crumbs and served with garlic aioli.
Potato Skins $11
Crispy potato skins topped with bacon and cheddar, oven baked and served with salsa & sour cream.
Doc's Original Poutine $11
Hand cut fries topped with cheese curds, bacon and our house made Doc's gravy, sprinkled with green onion.
Doc's Chicken Strips $14
Tender strips of seasoned, marinated chicken, breaded. Served with hand cut fries and one of our house-made dressings.
Flour Dusted Calamari $13
House cut calamari, dipped in a specially seasoned flour blend, cooked until golden brown and served with garlic aioli.
Nana Foley's Crab Cakes $11
An Irish heritage recipe, hand blended with tender crab, herbs, and spices, formed into delicate crab cakes, pan-fried and served with seafood grotto sauce.
Chicken Wings $15
A pound of crispy chicken wings, either Buffalo style or with Doc's dry rub. Served with celery and carrot sticks and house-made blue cheese.
Madras Chicken Curry $17
Yes, it's a traditional Irish dish! Marinated chicken and fresh vegetables simmered in a Madras curry sauce and served over rice pilaf with a dollop of yogurt. Mango chutney and Irish soda bread on the side.
Chicken Curry Boxty
Our house made Madras chicken curry, drizzled with yogurt. Served with a side of fries or salad.
Steak & Mushroom Pie $16
A traditional braised steak and mushroom pie served with fries or a side salad.
Steak & Mushroom Boxty $15
Braised beef with button mushrooms, drizzled with our house made blue cheese dressing. Served with a side of hand cut fries or salad.
Doc's Award Winning Burger $16
Grilled 8 oz patty on our signature roll, served with lettuce and tomato.
Onion Rings $6,50
Sweet Potato Fries $7
Hand Cut Fries $5
Rosemary Garlic Bread $6
Add Cheese $2
Feta Bruschetta $11
Come Celebrate With us!
Our pub is the perfect place to gather with friends and family and to celebrate. We combine stunningly-accurate interior design with great food, drink, music and, most of all, people.
Our guests are immersed in another world of warmth, conversation, laughter and fun. What the Irish call 'the craic' ...real fun.
Book your next celebration with us, we are available for semi-private corporate events or full pub buy-outs, family milestone gatherings, celebrations of life and more. Visit our website for details.
We are very proud to have been recently honoured with two prestigious awards by the Irish Pubs Global Federation of Dublin, Ireland: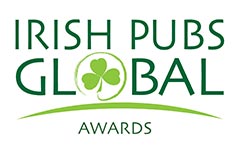 TOP 10 IRISH PUBS IN NORTH AMERICA 2017 & 2018
Doc Magilligan's
BEST IRISH PUB CHEF IN NORTH AMERICA
Gary Benyon
Subject to a $2 plate sharing fee. Plus applicable taxes. Gratuity of 18% will be added to groups of 8 or more. Some items may contain, or may have come into contact with nuts. Please ask your server.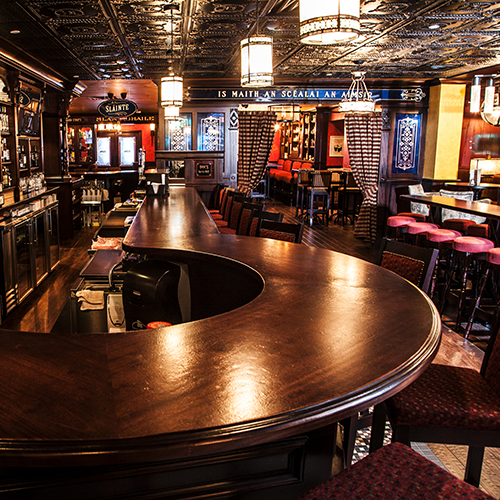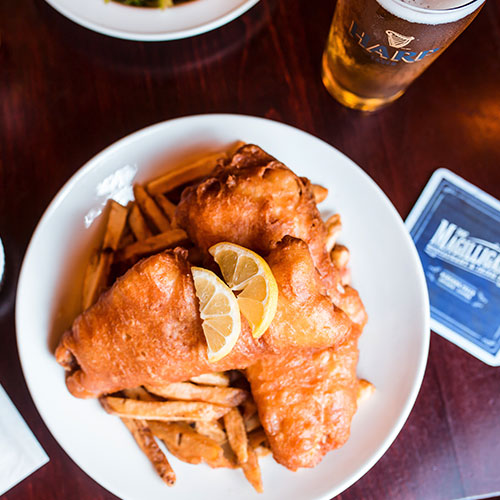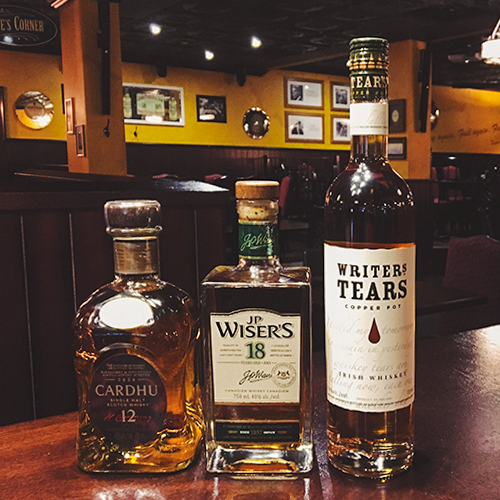 Doc Magilligan's was voted one of the top ten Irish Pubs in North America by the Irish Pubs Global Awards.
No trip to a pub would be complete without some delicious comfort food, and that's exactly what you'll find at Niagara's most authentic Irish pub and restaurant.
We have over 20 draught taps featuring Irish, domestic and local beers, Niagara's largest whiskey selection and handcrafted cocktails.
There are currently no posts available. Please check back.