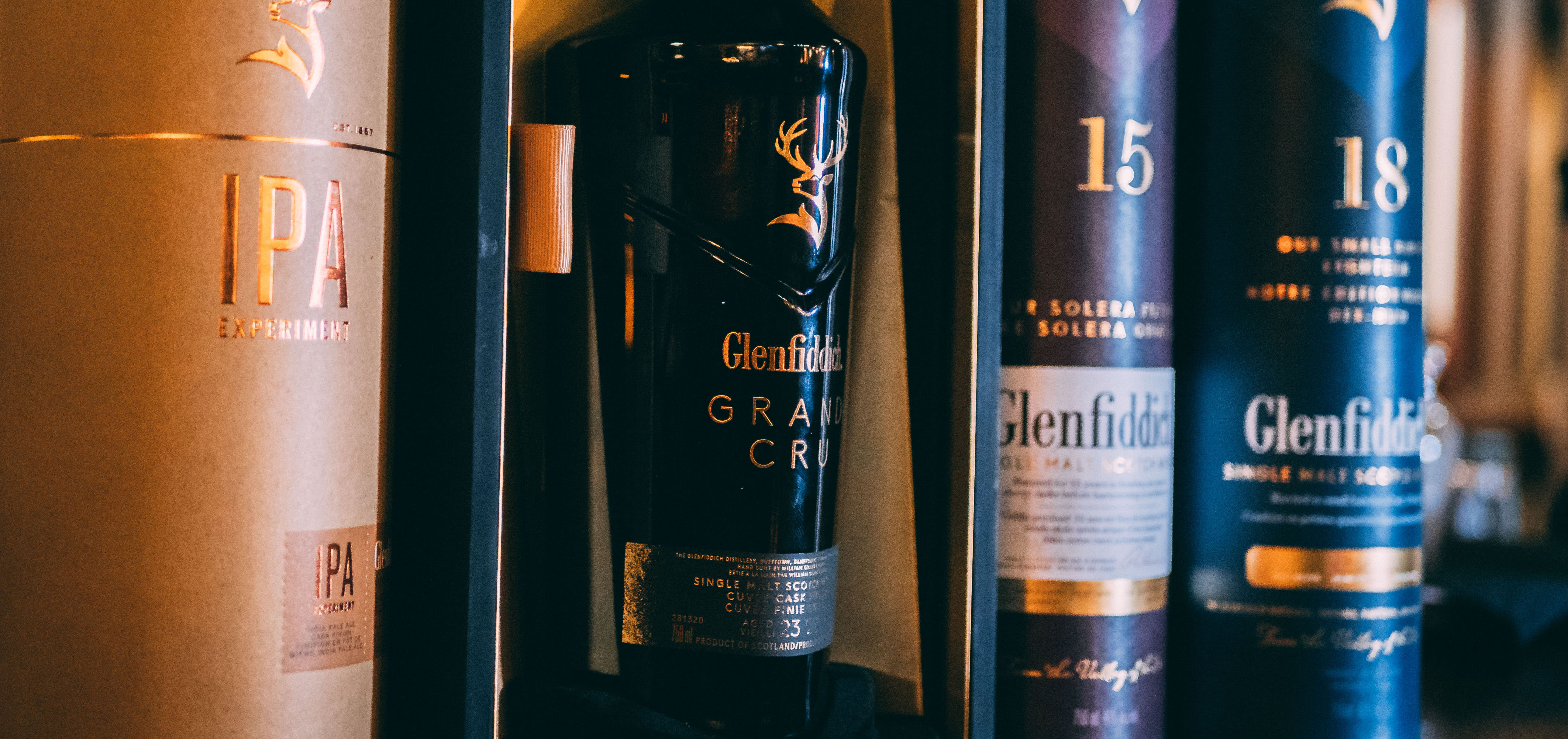 Doc Magilligan's is proud to offer Niagara's largest whiskey selection, with over 150 different bottles from Ireland, Scotland, Canada, the United States and Japan. Enjoy neat, or on the rocks and ask your server about our upcoming Whiskey Tastings!
Irish
2 Gingers Irish Whiskey
Bushmills
Connemara
Danville's Belfast
Glen of Imaal
Glendalough Double Barrel
Glendalough 13 Year Single Malt
Glendalough 7 Year Single Malt
Green Spot
Irish Mist
Jameson
Jameson Caskmates Irish Whiskey
Kilbeggan Irish Whiskey
Kilbeggan 18 Year
Kinahans Small Batch
Lord Lieutenant Kinahan's 10 Year Single Malt
Lord Lieutenant Kinahan's Small Batch
Midleton Very Rare Irish Whiskey
Powers Gold Irish Whiskey
Powers Signature Irish Whiskey
Redbreast
Roe & Co.
Sexton Single Malt
Silkie Irish Whiskey
Teeling Single Malt Irish Whiskey
Tullamore Dew
Two Stacks
Tyrconnell
Tyrconnell Madeira Cask
Tyconnell Sherry Cask
Writers Tears Double Oak
Writers Tears Red Head Single Malt
Writers Tears Copper Pot
Yellow Spot Irish Whiskey
Canadian
1910 Canadian Rye Whisky
Bulleit Rye
Barrelling Annie's Canadian Whisky
Collingwood
Canadian Club
Canadian Club 20 Year
Canadian Rockies 21 Year
Canadian Club Classic 12
Canadian Club 42 Year
Caribou Crossing Single Barrel Canadian Whisky
Crown Royal
Crown Royal Apple
Crown Royal Black
Crown Royal Northern Harvest
Crown Royal Maple
Crown Royal Vanilla
Crown Royal Peach
Dillon's White Rye
Few Straight Rye Whiskey
Forty Creek Unity
Forty Creek Barrel Select
Forty Creek Confederate 
Forty Creek Heritage
Gibson's Finest Sterling
Gibson's 12 Year
Gibson's Bold
Gibson's Venerable
Glen Beton Rare
Gooderham & Worts Canadian Whisky
High River Canadian Whisky
High River
Mac Na Braiche
Ninety 20 Year
Lot No. 40 Single Copper Pot Still Canadian Whisky
Signal Hill
Screwball Peanut Butter Whiskey
Pike Creek Double Barreled Canadian Whiskey
Wayne Gretzky No. 99
Wiser's Legacy
Wiser's Very Old
Japanese
Hatozaki
Taketsuru
Kuratoshi


Scotch
Aberlour A'Bunadh Scotch Whisky
Alberta Premium Cask
Armagnac
Ballantine's
Benraich The Twelve 
Bowmore Islay Original 12 Year
Black Bottle
Cardhu
Cragganmore
Chivas 12 Year
Clynelish 14 Year
Cu Bocan Signature
Dalwhinnie 15 Year
Dewars White Label
Famous Grouse
Glenfarclas 15 Year
Glenfiddich
Glenfiddich Grand Cru
Glenfiddich Fire Cane
Glenfiddich IPA
Glenfiddich Project XX
Glenkinchie 12 Year
Glenlivet 12 Year
Glenmorangie
Glenrothes Select Reserve Single Malt Scotch Whisky
Gold Bar Whiskey California
Grants Triple Wood 12 Year
Highland Park 10 Year
Islay Mist Scotch 8 Year Scotch Whisky
J.B. Rare
Jura Superstition Single Malt Scotch Whisky
Johnnie Walker Gold Reserve
Johnnie Walker Green Label
Johnny Walker Black
Johnny Walker Red
Johnny Walker Sherry
Lagavulin 16 Year
Laphroaig 10 Year
Monkey Shoulder
Mortlagh
Oban
Oban Little Bay
Old Pulteney Navigator Single Malt Scotch Whisky
Robert Burns
Singleton Tailfire 
Talisker 10 Year
Té Bheag Unfiltered
Teacher's Highland Cream
The Feathery
Tontin Cask Strength
American
Blanton's Original
Bulliet Bourbon
Eagle Rare
Elijah Craig
Few Bourbon
George Dickel Tennessee
Howler Head
Jack Daniel's
Jack Daniel's Apple
Jack Daniel's Honey
Jack Fire
Jack Rye
Jack Straight Rye
Jefferson Reserve
Jim Beam
Jim Beam Black
Knob Creek
Larceny Kentucky Straight
Michter's 10 Year Kentucky Straight Rye
Michter's American Small Batch
Michter's Bourbon Small Batch
Michter's Sour Mash Small Batch
Michter's Straight Rye Single Barrel
Michter's US1 Barrel Strength
Old Forester
Woodford Reserve Bourbon
Yellowstone Select