We invite you to join us in Niagara Falls to be a part of our history and we hope you enjoy your time with us, time and time again! Take a Virtual Tour of our pub here.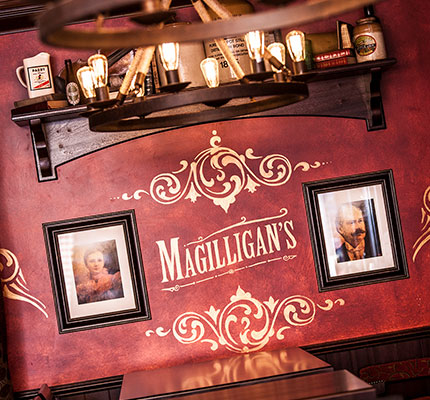 The Magilligan Family
Our story starts with John Magilligan, a hard-working builder from Dungiven, Ireland. John's commitment to his work established him as one of the best-known tradesmen in the county and earned him the nickname, "Honest John".
In the wake of the Great Famine in Ireland, John's family made the dangerous cross-Atlantic voyage. John went on to marry and have 4 children, 3 of whom were sons. Despite desperate times, the family flourished thanks to John's solid work ethic and all of his sons went on to become doctors.
Dr. Francis Magilligan, one of John's sons, married the beautiful Anna (we salute her with a drink named in her honour) and the ambitious young couple settled happily in Park Slope, Brooklyn, where they raised their 8 children.
Future Generations
Two full generations later, their great, great-granddaughter, Maureen Magilligan, married Fred Cade  who, along with his brother Len and his wife Elizabeth, own the thriving Niagara location where Doc Magilligan's Pub now sits.

As the story is told our good Doctor was always the life of the party and was as comfortable enjoying a round as he was making them.
It's fitting, then, that this pub was built completely in Ireland and serves to celebrate the very spirit of the man himself through an inexhaustible outpouring of good cheer, great company, and fantastic food and drink.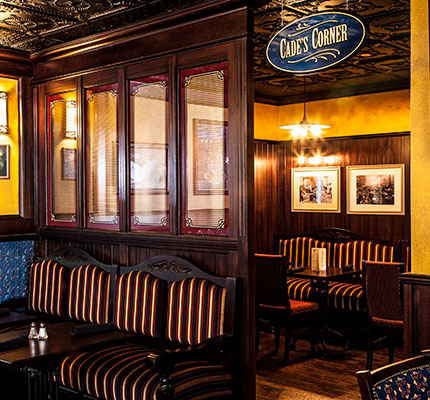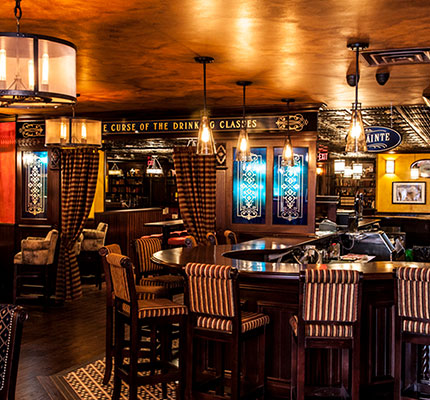 From Ireland To Niagara
In the Fall of 2013, a large shipping container arrived in the parking lot at 6400 Lundy's Lane in Niagara Falls, future home of Doc Magilligan's Restaurant & Irish Pub. Inside, nearly every component that makes up the current pub was packed, having come straight from Ireland.
The bar was handcrafted for our location and shipped alongside hundreds of authentic Irish pub memorabilia, pulled from pubs around Ireland that have since closed their doors. These pieces help the true feel of Ireland shine through, providing Niagara's most authentic Irish pub experience.
Within you'll find dozens of unique items that provide a look into Irish pub history. Alongside our huge selection of whiskey, comfort food inspired menu and spirit of high-quality service, you'll feel like you've stepped into one of Dublin's famous pubs.